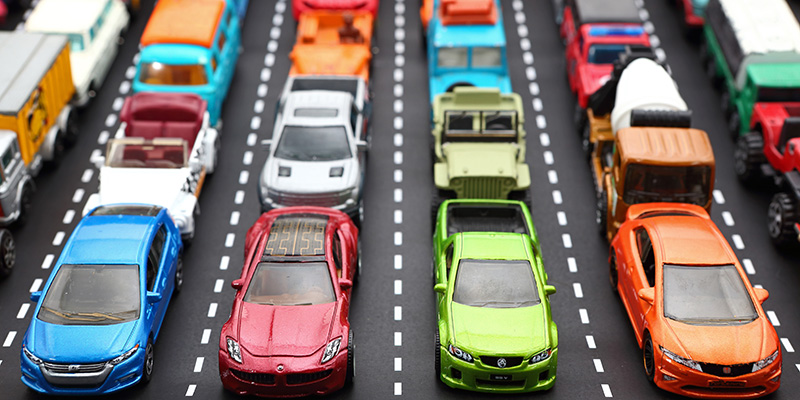 Establishing a dynamic shop culture with an all-for-one, one-for-all spirit, while also being smart with your marketing, are the two keys to getting your car count to where you want it to be and keeping it there!
Teamwork Makes the Dream Work
Again, absolutely everyone in your shop needs to take responsibility for car count for the business to succeed.
Techs need to produce quality work that leads to satisfied customers who will return to your shop and refer their friends. They also need to be presentable, act professional and represent your shop well, even if they don't interact with customers face-to-face.
Whoever works your front counter, be it a service advisor or another employee, needs to be courteous, presentable and knowledgeable. They need to not only have the right answers for questions customers have, but they also need to be able to ask the right questions to show your customers they know what they're doing and are more than capable of taking good care of them.
In addition to your employees looking good, your waiting and reception areas need to be pristine, as well.
Are your restrooms clean? Is the front entrance covered in muddy footprints? These are the seemingly unimportant things that can ultimately mean the difference between having a car count that puts you in the black and one that leaves you in the red. It doesn't matter whose responsibility these tasks are — it's all hands on deck if you want to run a successful repair shop.
Retain, Retain, Retain! 
A major reason for a struggling car count is customer attrition.
The term "attrition" is often misunderstood in our industry. Simply put, it's the rate at which your shop loses customers — something that happens to every shop on the planet.
There are two types of attrition — controllable and uncontrollable.
Uncontrollable attrition involves factors beyond your control. If a customer passes away or moves to a different city, there's nothing you can do.
Controllable attrition includes losing customers as a result of poor service, bad communication, failing to meet expectations, loss of trust, lack of proper follow-up and having the perception of providing low value. It's bad enough to lose a customer due to factors beyond your control, but when you start losing customers due to controllable attrition, you'll be scrambling to maintain a viable car count.
A misdiagnosis — a prime example of controllable attrition — is the easiest way to lose customers and ruin relationships. Miscommunication is a close second, so having well-trained, well-spoken individuals on your front lines is absolutely imperative to building trust and developing good relationships with your customers. That's because in addition to losing a customer due to negligence, you're also most likely losing that customer's friends, family members, social media followers, etc.
Educate, Empower & Engage
Fostering good, trusting relationships with your customers produces a sense of loyalty that will keep them coming back to your shop. Eventually, with enough good experiences, they'll bring their vehicle to you without even thinking about it.
It's important for your customers to feel like they were treated with respect and their experience was a positive one. This can be tricky with major repairs as these are often costly, but your staff should most definitely be able to explain and educate vehicle owners as to exactly what needed to be done and why.
When you feel like you're doing a good job of retaining your current customers, then (and only then) is it time to start attracting new ones.
Strategic Marketing
The first thing to keep in mind when you're looking to attract new customers is to be mindful not to alienate your existing client base. Do not offer specials exclusively to new customers, as your regulars will tend to be upset by not being rewarded for their loyalty.
Coupons, bounceback offers, etc., can quickly turn even your best customers into vampires, sucking your business dry.
The biggest thing to remember about coupons is that, even if the margin is tiny, they must be profitable for your shop.
Don't ever do anything — oil changes, tire rotations, etc. — for free. Odds are you'll have a lot of people take advantage of this offer and you'll never see them again.
One major thing to avoid in the auto repair industry is offering a joint savings on parts and labor. Never do this. Pick one or the other — parts or labor. Doubling up can be a nightmare and dramatically affect your bottom line.
Another big thing to remember in terms of coupon distribution is to always specify that each offer is a one-off, good for one visit/one car only and can't be combined with other offers. Coupon chasers will take advantage of any language they can and cost your shop both time and money if you let them.
Deliver on Your Promises
Once you have your message out in the community, you need to make sure your shop delivers when new customers come through the door. Your new clients must feel like what was promised to them in your marketing collateral has been delivered on, otherwise it's very unlikely you'll ever see them again.
Your advertisements should be viewed as an opportunity to set yourself apart from the competition. Emphasize your shop's commitment to customer satisfaction. Talk about treating your clients like family. Showcase your passion for auto repair, your unwavering love for your community and your dedication to be the very best shop in your market. Then, deliver on those sentiments!
Honesty and integrity are valuable (and increasingly rare) commodities in this world, so being able to show that your shop does business in an ethical manner, delivers on promises and makes sure its customers have the best possible experience will go a long way toward helping your bottom line.
We've all lost sleep worrying about car count, but if you can instill a sense of togetherness amongst your staff, treat your customers right and market your shop effectively, you'll definitely sleep better at night!
Click HERE to continue reading this article at ShopOwnerMag.com!