Is the pipeline to your shop flowing?

There is a pipeline flowing through your shop. When it is functioning correctly, it brings customers back time and time again… but when it's leaking, you can almost see your money spilling everywhere.
The problem for most shop owners occurs when they can see the signs of a leak but can't find the source of the problem… or they see the pipeline trickling instead of a steady rush, but don't know where the bottleneck is hiding.
?
Are you measuring the key metrics that let you diagnose problems in your shop?
?
Do you have systems and tools in place to understand where the inefficiencies are in your shop and how to fix them?
?
How does your shop stack up to the competition?
Plug leaks, relieve bottlenecks, and increase shop efficiency with one simple-to-use tool!
The RPM ToolKit® gives you the tools you need to measure, diagnose, and solve problems in your shop.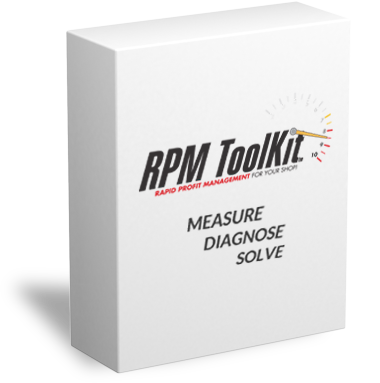 We developed the RPM ToolKit® in our shop, for our shop. After 35 years of struggling, we went through every problem imaginable – from family drama to inefficient technicians and ineffective marketing – and developed the policies and procedures to maximize shop efficiency.
That's the RPM ToolKit® in a nutshell:

The measurement, training, systems, and processes needed to run a successful shop and improve shop efficiency in one simple, easy-to-use package.

Our focus is on measurement so you can understand what's going on in your shop, and processes/systems so you can control and improve the numbers you're measuring.

We even include the same policies and procedures we use in our successful shop today to control shop efficiency and maximize profits.
The RPM ToolKit® has helped shops like yours increase efficiency with the right process improvements and procedures to grow the shop SUSTAINABLY.
Check out this case study.
Ready to get started? Schedule your demo.
Or call 866.826.7911